【
Discoverer

Class】

Hello!

My name is Ms. Bel, I am from Australia and I am the Sunrise Class teacher at Abroad International

School Osaka.

I have lived in Osaka and Japan for 8 years and have been teaching with Abroad since 2018, firstly as a preschool teacher and currently as a kindergarten teacher.

I believe that children learn better through fun and engaging immersive English play rather than rigid drills and homework. In my class children are presented with a variety of different toys, activities and creative outlets, through these they learn frequently used English words and phrases.
They then use their new-found English during class, socializing with high-level students and during play and to reinforce what they have learned.
I hope to see you soon.
【
Adventurer Class

】

Hey there.

My name is Mr. James, I am from Toronto Canada and I am the Daylight Class teacher during Saturday school. I am also the Pre-Kinder teacher during the week. I have been living in Japan for 7 years and it has become my home away from home.

My interests are all over the place, I like learning about history and science, and my hobbies include sports, cycling, music and games. But you can talk to me about anything and I may know something about it!
Saturday school is a fun and relaxing environment where you are immersed in an English environment and learn through different ways. We like to teach kids using interactive things like computers, or through play, and weekly events based on our monthly themes. Sometimes you will learn with a pencil, but other times you will learn through typing or sport. We believe that you need to experience English in different environments and not just inside a classroom.
Come and join us!
【
International School Graduate Class

】

Hello! My name is Ms.Trichelle and I am from the beautiful island of Jamaica. In my spare time I enjoy taking photographs, watching Broadway shows, and traveling while filling out my scratch off map of the world. I have taught multiple age groups from birth through to adults. The skills and experiences I have acquired from working in various schools have been rewarding and fulfilling. I have lived in Japan for nine years and have been working at Abroad since 2019.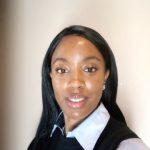 I believe that each child is a unique individual who has the potential to be the best that they can be. For this reason, I strive to create a safe learning  environment where children can build on their strengths, correct their weaknesses and have fun while learning . I am excited to begin this new journey with the Abroad family and I cannot wait to meet my students. Let's have a fun and productive year!