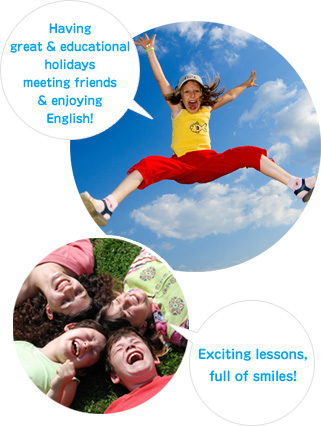 Summer School & Spring School
Enjoy English everyday for 1 – 2 weeks during your Spring and Summer holidays!!
During their long term Spring and Summer holidays, students from ages 3 up to elementary school (at some schools up to junior high school), can experience one of our many international Preschool curriculums, which are totally different from those conventional Japanese kindergartens offer.
The main focus of the programs is English learning.
Since our teachers are native speakers, the kids learn natural, everyday English and use it through the day.
Since all our lessons are designed to enjoy learning English, kids will get used to their (new) English speaking environment naturally. (Our Japanese staff will gladly assist kids who are new to or not used to English speaking environments.)
The starting date of each, Spring and Summer School will be announced on the schools homepages once decided.
If you would like to find out more information about our curriculum or various programs please contact your local school where our friendly staff will be happy to answer any of your questions.


It's our goal to teach natural English while studying a variety of subjects / topics in English.

We offer 1 week (about 15 hours) to 2 weeks (about 30 ? 48 hours) of English programs and give students the chance to spend their long term vacations having fun and learning English at the same time.
This is a great opportunity for kids / students who are busy with activities at their regular schools. During spring and autumn terms they have a chance to spend lots of time in English speaking environments.
With conventional English lessons, students usually learn English once a week, hence just 16 hours in four months! In our intensive programs, kids have the chance to improve their English skill more easily by spending a part of every day in an English speaking environment.
You will also cut down on long commuting times and transportation and parking fees allowing for a more effective use of your time and money.

Kids who have been taking English classes already can review and practice (actually use) what they learned (in a multi-national environment.)
Kids can make new friends in a new environment where (only) English is used as communicating tool.

We offer tuition discounts for two or more siblings attending our programs / courses.

Between terms our schools hold events such as BBQ's to refresh our students and teachers.