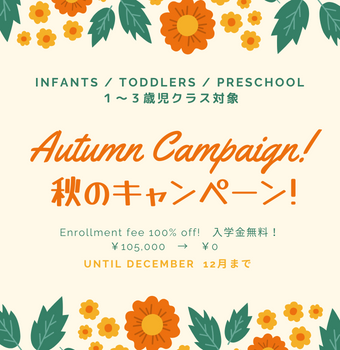 Autumn Campaign/秋のキャンペーン
24th August 2022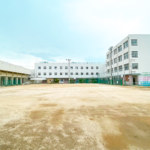 Abroad International School Osaka has moved to our new campus
11th November 2022
Primary school 2023 April/2023小学部募集要項
Abroad International School Osaka is now accepting Primary School Grade 1 application from other international preschools for April 2023.
Next academic year we are planning to have one class for grade 1 and have only limited seats available.
Please check the below application guideline of Primary School 2023 Grade 1:
Application Period :September 1st – September 30th, 2022
Assessment Date :October 12th, 2022 (Wednesday)
Announcement of result : Late October
There will be an assessment time for one and a half hours for each student. The admissions criterias are as below:
Academic Ability

English Language Proficiency (Phonics, Reading, Writing, Speaking)

Social, Self-management, Motor Skills,
How to apply :
First please submit the application form.
※please attach the picture on the application form
Download application form (PDF) Online Application Form
Mailing address:
〒550-0014 1-3-2 Kitahorie, Nishi-ku, Osaka-JAPAN Being Yotsubashi Bldg 6F
Abroad International School Osaka
After submitting the application form, please transfer the application fee (21500 yen) to;
Mizuho bank Yotsubashi branch(563)
Ordinary account No.1243349
Baharu Education
*Please add the student's name
If you have any questions, please contact
TEL : 06-6535-0500 / Email : osaka@abroadschools.jp
Abroad International School Osaka
アブロードインターナショナルスクール大阪校では2023年4月の小学部1年生に向けて、他のインターナショナルプリスクールからの願書を受付中です。
来年度は1年生のクラスは1クラスのみで、募集人数は限られています。
下記2023年度小学部1年生の募集要項をご確認ください。
出願期間:2022年9月1日から9月30日まで
アセスメントテスト日程:2022年10月12日(水)
結果発表:10月下旬
アセスメントテストの所要時間は約1時間半です。
評価基準:
学力

英語力(フォニックス、リーディング、ライティング、スピーキング)

社会性、自己管理力、運動能力
出願方法につきまして:
願書にご記入の上、郵送またはメール添付でお送り下さい。
※願書には必ず写真を貼付してください。
郵送先:
〒550-0014
大阪市西区北堀江1-3-2 Being四ツ橋ビル6階
アブロードインターナショナルスクール宛
その後、出願料21,500円を下記口座にお振込みください。
みずほ銀行 四ツ橋支店(563)
普通預金 口座番号:1243349
株式会社バハールエデュケーション  
※お子様のお名前でお振込みをお願いいたします。
ご質問がございましたらご連絡くださいませ。
TEL : 06-6535-0500 / Email : osaka@abroadschools.jp
アブロードインターナショナルスクール