Early Learning Centre


Let's begin OUR school life!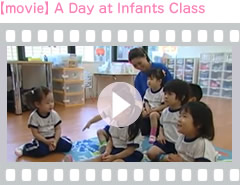 This group is for infants, who are still acquiring speaking skills. It begins with learning greetings and focuses on learning basic English through singing and various activities. Initially the kids are introduced to their new school environment through play and exploration, allowing them to become confident of their surroundings. Activities are conducted by a native English teacher and start with phonics and the alphabet. The key factor to this group is that children are exposed to and learn English in a fun manner.

Excuse me, can you speak in English?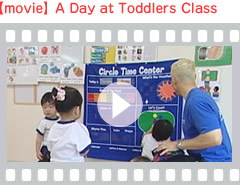 This is the age that children become interested in conversing. Therefore the main goal is to encourage the students to communicate with their peers and teachers. In this class we enjoy lots of exercises that focus on acquisition of vocabulary, pronunciation skills and letter/number recognition. There is also a focus on developing fine motor skills which is fundamental to growth and also helps prepare for Preschool class.

Express yourself in English!
In this class the children's listening skills develop further and the children improve upon communicating their feelings and opinions. In Preschool we begin to use a writing exercise book and practice holding and controlling writing implements.
Communicating with the teacher fluently!
At this age students become more capable at expressing themselves and exchanging thoughts and ideas in English. Not only do they progress their English through games and activities in this class, but they also study writing, reading and grammar structures. We provide plenty of opportunities to practice what we have learned in class through show and tell, news time and daily reviews etc.
Upper-Pre-K class provides a fast-paced, hands-on approach to learning and aims to promote independent study. Opportunities are provided for individual and group projects (across all subjects) and children are encouraged to pursuit areas of interest using various resources such as written word, images and technology. The Upper-Pre-K curriculum is designed to further skills, knowledge and experience in order to ready students for elementary school.
All our classes are designed to allow the students to enjoy learning English and prevent any kind of obstacle between the child and the English language.
* Class separation varies from school to school.



The curriculum implemented at Abroad International School is designed to promote early years development. Through a range of educational activities, we encourage the skills that are essential to children becoming healthy, independent and knowledgeable individuals. Key areas of focus are; basic educational principles (i.e. Mathematics, Science, Language Arts), Physical advancement of Fine and Gross motor skills, understanding and attainment of emotional and social well-being. Children are encouraged to communicate their needs and opinions and are introduced to varied topics which allows for the children to have the ability to speak in various situations. Furthermore, by providing opportunities for children to explore and discover the world around them, children play an active role in their own education.
 LITERACY AND LANGUAGE DEVELOPMENT
Dictates words, phrases, ideas, experiences, story events, sentences
Uses pictures, signs, symbols to represent oral language, ideas, stories
Contributes to shared writing
Listens daily to fluent and expressive formal and informal texts
Recites with expression and rhythm
Matches/produces words with same beginning sound
Makes and confirms predictions
Makes connections using illustrations/photos, prior knowledge, real-life experiences
Identifies the source of environmental sounds
Expresses familiar routines, tells simple personal narratives or memories
Identifies the meaning of content-specific vocabulary
Makes connections between oral language and print
Recognizes favorite books by covers
Listens to and discusses literary multicultural texts, songs and oral stories
Focuses on letter names and shapes
Experiments daily with a variety of writing surfaces and materials
Uses props to convey meaning
Uses newly learned vocabulary on multiple occasions and in new contexts
Identifies a wide variety of objects through receptive language
Derives meaning from non-verbal and verbal cues
MATH AND SCIENCE
Recognizes six colors: Red, yellow, blue, orange, green, and purple
Recognizes four shapes: circle, triangle, square, and rectangle
Understands size concepts: long, short, big, small
Can match according to shape and/or color
Can count from 1 to 5
Understands parts of the body
Understands seasons and the weather
Uses language associated with time in everyday situations
PHYSICAL DEVELOPMENT
Manipulates two small objects at the same time
Strengthens hand grasp and uses hands in many positions
Coordinates hand and eye movements
Uses writing and drawing tools with control and intention
Develops strength, dexterity, and control needed to use tools and materials
Able to walk on tiptoes
Practices self-help skills (zips, buttons)
Carries an item while walking
Go up and downstairs (aided)
Can run
Can jump
Able to kick and /or roll a ball
Builds an understanding of directionality and position in space
Explores manipulative toys
FINE ARTS
Uses language as part of dramatic play
Makes believe with objects
Dramatizes stories, experiences, poems, fingerplays, moods
Creates original work
Recalls words in a song or fingerplay
Participates in classroom music activities
Expresses feelings through movement
Engages in dramatic play with others
SOCIAL/EMOTIONAL DEVELOPMENT
Names family members and relationships
Knows own first and last name
Recognizes qualities, interests, skills, traditions, experiences that make people unique
Helps establish rules, routines
Displays a positive self-concept and self-esteem
Pursues challenges, accepts setbacks
Initiates play situations
Contributes to classroom responsibility (takes on jobs)
Shows curiosity in new experiences
Follows familiar routines independently
Respects differences
Expresses interests and self-direction in learning
Shares and cooperates with others
Shows concern about rules and group expectations
Demonstrates conflict-resolution strategies
Learns how to make and keep friends
Works with others to solve problems
Takes turns
Stays with or repeats a task
Separates from family, adjusts to new situations
Uses materials appropriately and puts them away
Connects actions and consequences
Takes care of his/her own things
Accepts responsibility for own behavior
Expresses and manages feelings, needs, opinions
Shows empathy
Uses good manners: "Thank you" and "Please" as well as " You are welcome"
Respects rights and property of self and others
Respects differences

MEDIA

Uses various media to document and communicate meaningful experiences
Expand your horizons with Abroad!!