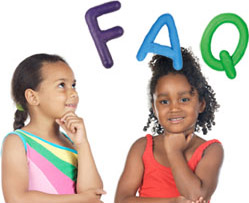 Parents and students often have many questions. Below you'll find the answers to F.A.Q.


What kind of education is Abroad International School(AIS) aiming for?
We are striving to raise well educated, knowledgeable, curious and dynamic people with high communication and adapting skills, who are able to succeed in international environments.
Since my child already has school experience, is it possible for him/her to enter a higher class than the standard age / school year regulation?
Not at AIS. Every child will enter according to the standard age / school year regulation.
How many times should my child participate in a week?
At AIS, five times a week is ideal. It is important for kids to spend every day in an English speaking environment with their friends and teachers. The more classes a student attends, the faster their improvement will be.
Can parents observe lessons? Are there any days parents can join the classroom?
Parents are (of course) allowed to observe classes. There are participation days available at each of our schools.
How are parents informed of their child's progress?
At AIS termly reports are given to parents. In these reports teachers will inform the parents about their children's study situation, their strong and weak points etc.
I would like more information about the weekly schedule.
You can view the AIS timetable
here
.
Are your lessons beneficial for entrance examinations?.
Yes, they are. Lessons are focused not only on English conversation but also strengthen grammar and reading skills.
How does the curriculum for each age-group differ at AIS?
Please view our curriculum
here
.
Do teachers or students use Japanese in class?
No, not at all.

Are the teachers Japanese or English native speakers?
All our teachers are experienced native English speakers.
Do homeroom teachers change during terms?
There are no frequent changes of homeroom teachers within a term.

Do you accept new students in the middle of a term? Can new students keep up with the lessons in case of mid-term enrollment?
New students can join our school at any time throughout the year. Teachers consider each student's levels and adapt lesson content accordingly.
What happens if we have to move to another city and can't commute to school any longer?
At the moment there are Abroad International Schools in Osaka, Nagoya, Sendai and Okayama. Students who relocate close to one of our schools can easily transfer.
Is it possible for students to be absent from class for a long time (freeze studies, long vacation etc.)
Students are allowed a one-month absence from school at most. Students who don't attend school for two months or more will be counted as "dropped out".
Can students quit school during a term?
Yes, it is possible. However, we require one month advance notice.

What can parents do at home to support their child's studies?
We recommend you to communicate and spend time using English with your child at home as much as possible. You may talk about school, his/her friends, new events, etc. anything you like. This will be the best support. It is also recommendable to support your kid with his / her homework.

Can parents / guardians also join the trial lesson?
No, parents can not join the trial lesson but can observe trial lessons.
Can friends also join the trial lesson?
Yes, please feel free to invite friends who are interested as well.

Is it OK that my child is very shy towards others at first?
That's no problem at all. All our teachers are very experienced and will support new students to getting used to their new environment.
My child might have trouble concentrating for a long time. I am worried that some lessons might be too long.
Please be assured that our experienced teachers design classes in order for all students to enjoy classes throughout the lessons.
I wonder whether my child will be able to attend class without a parent around.
Children are able to adapt to new environments quickly, and our teachers are competent in supporting them to become used to joining classes without a parent being present.
Is it okay for children to learn English even though they are yet to fully acquire their native language? (For non-native English speakers)
It is best for children to learn new languages from an early age. Kids learn languages through hearing and repetition; therefore it is important for them to be in an English speaking environment from an early age.
Do children really need study material (textbooks) to learn?
The learning materials are important to do homework, continue studying at home and reviewing what was learned during lessons.